Quick: what's a 15% gratuity on a bill of $18.75?*
Did you whip out your cell phone? Get an instant headache? If so, you're not alone.
The odds in a lottery. The stock market report. Taxes as a percentage of income. Tithing. Tipping at a restaurant. Calculating risk and reward in investment.
We are surrounded by numbers; there's no question that they're important. But while we work intentionally to make reading a habit and a joy for our children, we all too often neglect to give the same care to mathematics. 
And so we make math a chore, something "hard" (and by that we mean unpleasant), a workbook to make it through instead of a life skill to practice. 
Let's not forget that God is Lord of numbers as well as words. (See Leviticus 27:27-32 for an example of fractions and Genesis 5:3-5 for addition.)
If you struggle with math and teaching it to your children, or if you love it, I invite you to tune in to 
Blog Talk Radio
 this 
Wednesday (April 8) at noon EST
 for Leigh! for Lunch. Join me as I talk to
Art Reed
about effective ways to teach math using the popular math series 
Saxon Math
. 
Born in Chicago, Mr. Reed spent 27 years in the U.S. Army before pursuing a career in mathematics and teaching. 
He has taught mathematics at the university level, and before that, he taught for 12 years at a rural high school in Oklahoma. In each case, he used Saxon Math to improve test scores and achievement levels. He has been offering curriculum advice to home schoolers for the past 9 years and is known for his practical and valuable assistance, especially with Saxon Math. 
He now lives in Oklahoma with his wife of more than 40 years, Judy. They have 2 daughters and 5 grandchildren.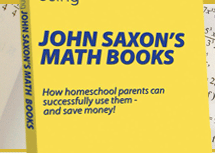 Mr. Reed is the author of 
Using John Saxon's Math Books
, a companion for Saxon books. His book answers questions like:
Do Saxon® math books still offer an excellent math curriculum?

Do I need to buy the new editions?

How do I record academic credits?

Expensive graphing calculator vs. the inexpensive scientific calculator -- which is better?

What are the similarities and differences between Math 87 and Algebra 1/2?
Want to know his answers? Get one step ahead - ask him yourself!! Call in or chat online during the show this Wednesday at noon, or e-mail in your questions ahead of time.

Don't forget to register as a friend to be eligible for weekly prizes!
*The answer is approximately 
$2.81
or
$2.82
, depending on when you round.