How's your vision?
I don't just mean your eyesight. It's the end of another school year, and if you're like the rest of us, your inspiration and vision for your home school may be running on empty.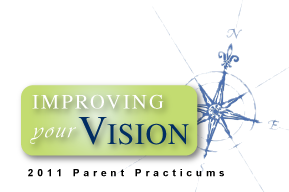 This summer is the perfect time to improve your vision for your home school at one of our 1- or 3-day free Parent Practicums. You'll learn more about the relationship between freedom and education and be reminded of the high calling you've chosen to pursue with your family.
Just this week, 3-day practicums are taking place in Ohio, Colorado, and Virginia.
Click here
to find one in your state!
When your heart and mind need to be renewed, the fellowship of other like-minded (and like-wearied!) individuals is a great encouragement. You're not tackling this alone.
Read Jen @
Balancing Beauty and Bedlam
's response to a 3-day practicum she attended:
Brain Power: How Deeply Do You Think?
. Listen in to the
CC Parent Practicum Podcast
(say that three times fast!) with Matt Bianco, Tobin Duby, and Heather Shirley. Then watch the video: